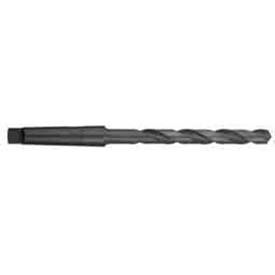 Taper Shank Drills - Fractional Sizes
Fractional Size Taper Shank Drills Are Used For Drilling In A Variety Of Steels Including Cast Iron And Other Ferrous And Non-Ferrous Metals And Alloys.

Fractional Size Taper Shank Drills are made of solid High Speed Steel (HSS) or Cobalt for long lasting strength, durability and dependability. HSS drills have standard 118° point angle and are used for a variety of general purpose drilling applications and conditions. Cobalt drills have 135° self-centering split point design to reduce thrust requirements and are used for drilling in manganese, harder stainless steels, titanium and other tough high tensile strength materials. All drills have right hand (clockwise) cutting direction and standard helical, two flute designs. Tapered shanks allow for secure and accurate tool-holding system. Wide selection of Imported or Made in USA drills are available in various fractional sizes from 9/32 to 3-1/2 inches in drill size and in 1, 2, 3, 4, or 5 Morse Taper shank sizes. Overall lengths range from 1-7/8 to 21-3/4 inches. Various Stub Length type drills also available.