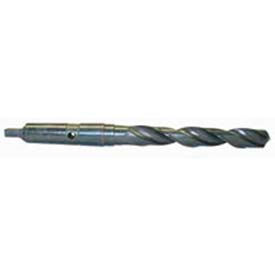 Oil Hole Drills - Fractional Sizes
Fractional Size Oil Hole Drills Are Designed For Heavy Duty Drilling Applications With Increased Speeds Of 30% Or More.

Fractional Size Oil Hole Drills are made for long lasting strength, durability and dependability. Coolant holes on drills result in higher penetration rates. High Speed Steel (HSS) varieties have Black Oxide finishes and are used for drilling through a wide range of materials, including aluminum, mild steel or a variety of other ferrous or non-ferrous metals and alloys. 118° drill tip angle. Made in USA. Solid Cobalt drills are used for heavy duty drilling in tough alloy steels, forgings and casting. Finished with TiAIN Coating for longer life and higher temperature resistance. 140° drill tip angle provides excellent chip flow over entire cutting edge. Imported. All drills are manufactured with right hand (clockwise) cut and come with Straight or Morse Tapered style shanks of various sizes. Available in a wide range of fractional sizes from 15/64 to 2 inches in diameter.