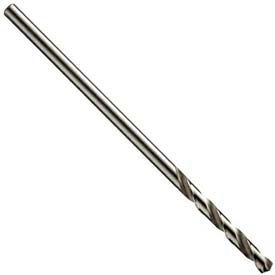 Aircraft Extension Drills - Fractional Sizes
Aircraft Extension Drills (Fractional Sizes) Come In A Wide Variety Of Sizes For Increased Versatility.

Aircraft Extension Drills (Fractional Sizes) have sturdy constructions for long lasting durability and strength. High Speed Steel Aircraft Extension Drills With Black Oxide Finish are designed for general purpose drilling in normal steels, cast iron, and a variety of other ferrous and non-ferrous metals and alloys. They are manufactured from high speed steel and have a normal spiral with helical flutes. Cobalt Aircraft Extension Drills With Plain Finish are well suited for heavy duty operations in high tensile strength, low machinability, ferrous metals and alloys. Used for tough, high tensile strength, non-ferrous materials like Titanium and Inconel due to its heat resistance. The 135° split point design is self-centering and helps to reduce the thrust requirements. Choose from USA Made or Import models. Dimensions and flute lengths vary per model.