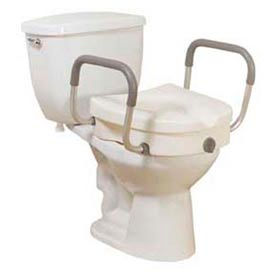 Raised & Elevated Toilet Seats
Raised and Elevated Toilet Seats Allow Convenient, Arm Assisted Standing for Hospitals, Physical Therapy Offices, and more.

These toilet seats are made from aluminum, heavy duty molded plastic and other high quality materials for long lasting durability and dependability. Variety of designs available to fit most toilets to help elevate seat and provide enhanced comfort and support for individuals who have difficulty sitting down or standing up from toilet. Easily attaches to toilet bowl and locks into place. Available with or without removable padded armrests. Size types are Standard and Standard/Elongated. Weight capacities are 300 lbs and 350 lbs. Color is White. Dimensions vary per type. Quantity is 1.