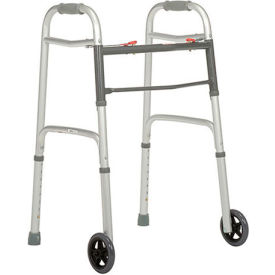 Folding Walkers & Side Walkers
Folding Walkers and Side Walkers Provide Stability to Elderly, Injured, Disabled and Handicapped Individuals Requiring Mobility Assistance.

These walkers are made of aluminum, plastic and other high quality materials for long lasting durability and dependability. Assists handicapped, injured, elderly and disabled individuals in walking. Variety of types available to meet user needs and requirements. Some models easily fold for convenient transporting. Weight capacities are 275 lbs, 300 lbs, 350 lbs, 400 lbs and 500 lbs. Dimensions and colors vary per type.