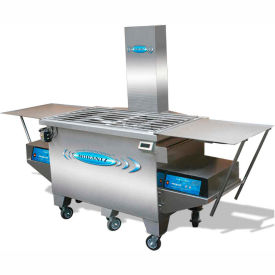 Morantz Ultrasonic Cleaning System
Morantz Ultrasonic Cleaning Systems Are Widely Used In Medical, Pharmaceutical, Automotive, Marine, Printing And Other Applications Where Precision Cleaning Is Necessary.

Morantz Ultrasonic Cleaning Systems effectively remove a wide variety of contaminants including dust, dirt, rust, oil, grease, mold, algae, fungus even when tightly adhered or embedded into cracks or crevices. Stainless steel construction throughout provides lasting durability and corrosion resistance. Prowave True Digital Generator with intensity control knob creates ultrasonic waves for effective cleaning. Thermostatically controlled heater with indicator light and digital temperature display/readout box provide precise use for complete sanitation. Casters allow heavy machines to be moved where needed for efficient use. Ultrasonic cleaning machines are available for Window Blind Cleaning, Content Restoration, Electronics and Parts Cleaning, Janitorial and Maintenance and Medical Cleaning. Corresponding options and accessories Blind Cleaner's Upgrade Kit, Firesonics Upgrade Kit and Parts Cleaner's Upgrade Kit also listed for maintenance and repair of ultrasonic cleaners. Dimensions vary per model.