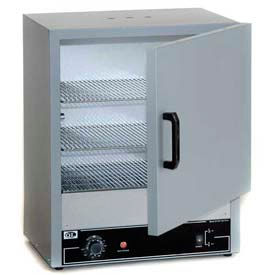 Quincy Lab Gravity Convection and Air Forced Ovens
Quincy Lab Convection Ovens Provide Drying, Baking, Sterilizing, Heat-Treating and more.

Quincy Lab Convection Ovens feature energy-efficient, low-watt density incoloy sheathed heating elements for quick run-up and recovery times. Perforated heat shield absorbs radiant heat for even temperature distribution. Illuminated on/off rocker switch and heat/cycle pilot light. Workspace is insulated with one-inch of high-density mineral wool. Interior is made using corrosion-resistant aluminized steel. Cubic feet capacities range from 0.6 to 3.0. Temperature ranges up to 450° F. Scratch-resistant hammer finish. Available in Gravity Convection or Forced Air styles.