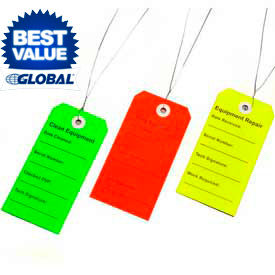 Medical Equipment Tags
Medical Equipment Tags are used in Healthcare Environments for Easy Identification of Equipment Cleanliness and Repair Status.

Medical Equipment Tags provide Clean, Dirty, or Repair status tags to help DME/HME equipment providers meet requirements of accreditation agencies to designate equipment status. Tags are made of durable cardboard and 10" long wire ties for long lasting durability and strength. Compliance required by governmental agencies such as Medicare. Models include Clean Equipment Tags (Green), Dirty Equipment Tags (Red), Repair Equipment Tags (Lime) and Multipack Tags. Available in assorted colors. Sold in package quantities up to 750.