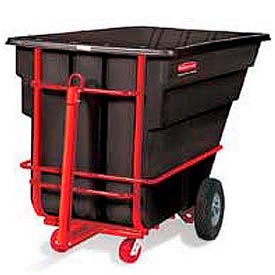 Rubbermaid® Heavy-Duty Towable Plastic Tilt Trucks
Towable And Trainable Tilt Trucks Are Great For Heavy-Duty Use.

Towable tilt trucks handle industrial waste efficiently and feature a heavy duty tow bar, hitch and frame for multiple truck towing and training up to 5 mph. These durable polyethylene trucks have a smooth, seamless surface that is easy to clean and resists pitting and corroding. Counterbalance design helps to prevent backing-up when tilting. Rubbermaid towable tilt trucks meet USDA, FDA and OSHA food and sanitary requirements. Pneumatic load wheels provide smooth movement over rough terrain.