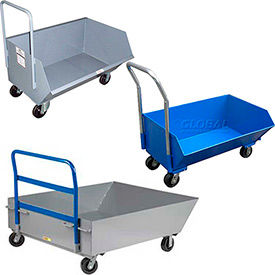 Low-Profile Steel Hopper Trucks
Low Profile Hopper Fits Under Machinery And Conveyors To Collect Debris And Waste.

Designed for containment of scrap metal shavings, cutoff, scraps and chips produced by metalworking, These hoppers have a low tapered "scoop" side that allows easy use and unloading of excess waste machinery or other work area's. Low profile hopper trucks are made with welded steel for strength. Low profile trucks include a push handle and roll smooth on Phenolic or rubber caster options.