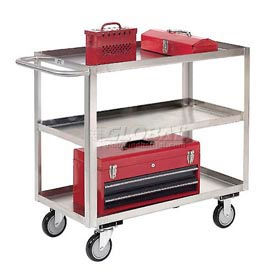 Stainless Steel Utility & Stock Carts - Welded
Stainless Steel Utility and Stock Carts - Welded Are Designed To Store and Transport Heavy Materials and Supplies In Automotive Shops, Warehouses, Stock Rooms and Other Work Environments.

Stainless steel utility and stock carts – welded provide convenient steering transport for supplies from one location to another. Polyurethane casters provide mobility for user convenience. Easy-to-clean design for low maintenance. Available shelf quantities are 2, 3, 4 and 5. Capacities are 300, 500, 600, 700, 800, 1,000, 1,200 and 1,500 lbs. Welded tubular stainless steel legs and shelves provide strength and lasting durability. Dimensions and shelf types vary per model.