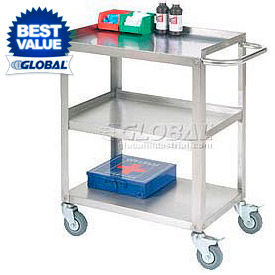 Stainless Steel Utility & Stock Carts - Ready to Assemble
Stainless Steel Utility And Stock Carts Are used In Clean Rooms, Restaurants And Other Corrosive Environments.

Stainless Steel Utility and Stock Carts are constructed with easy to clean and corrosion resistant tubular stainless steel for strength and long lasting durability. Variety of types available to meet job requirements. Rubber or polyurethane wheels provide mobility. Shipped ready to assemble. Available in a variety of lengths, widths, heights and wheel diameters/types to meet transport requirements. Shelf quantities are 2 and 3. Capacities are 200 lbs, 300 lbs, 400 lbs, 500 lbs, 700 lbs and 800 lbs.