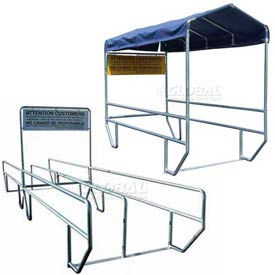 VersaCart® Outdoor Shopping Cart Corrals
Reduce Vehicle Damage Claims by giving your Customers a Convenient Place to Return Shopping Carts.

These cart corrals keep your shopping carts close to the store, welcoming shoppers and providing a convenient station for customers to return their carts to, increasing available parking spaces. Corrals also reduce grocery cart damage and theft, as well as help to lower labor costs for cart collection. Cold-rolled galvanized steel construction is corrosion resistant and welded seams and joints offer excellent durability. Modular design reduces shipping costs and offers easy assembly. A high-visibility sign is included to help notify customers where to return grocery carts when finished shopping.

Order Optional Anchor Bolts to help mount the corral in your parking lot. Anchor bolts are 10"L galvanized steel spikes for long life and are sold individually.