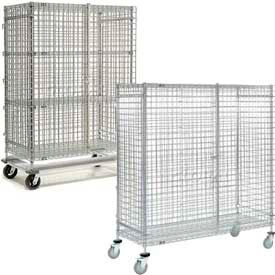 Nexel® Wire Security Storage Trucks
Nexel® Wire Security Storage Trucks Provide Mobile Content Storage For Maintenance, Storage, and Other Related Environments.

Heavy-gauge 2-1/2" square wire mesh allows for visibility and air circulation, makes inventory control simple and minimizes dust accumulation. Dual hinged doors (open to a full 270°) with a padlock hasp for security. Chrome plating process consists of electro-plated nickel-chrome resulting in a premium high gloss finish. Poly-Z-Brite® finish features a clear powder-epoxy over zinc-chromate electro-plating that handles temperature and moisture extremes well. Ideal for dry storage, coolers and freezers. Includes NEXGard, an anti-microbial agent that protects the epoxy coating from bacteria, mold and mildew. Choice of polyurethane wheel swivel stem casters with protective bumpers or extra capacity dolly base with corner bumpers and rubber wheel casters. Shelves not included with Chrome Trucks. Assembles easily.

Quick Adjust Chrome Shelves are available for greater interior shelf space. Shelves can be added, removed or adjusted without disassembling the truck.