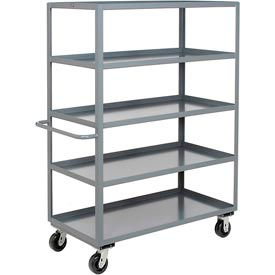 Heavy Duty Welded Steel Shelf Storage Trucks
Heavy Duty Welded Steel Shelf Storage Trucks Provide Storage and Transportation for A Variety of Material Handling Applications.
Heavy duty welded steel shelf storage trucks are designed to hold and transport heavy loads. Various brands offer wide selection of rugged service carts to meet particular requirement or application. Heavy duty angled steel posts and wheels provide easy transport of products, tools or other utilities. Shelf lip helps retain cargo during transit. Tubular push handle allows easy cart maneuvering.
Available in a variety of types, sizes and popular brands
. Shelf quantities are
3, 4, and 5
.
Dimensions, color finishes, wheel types, wheel diameters and capacities vary per type
.
Welded steel design
Flush or Lip Up shelves available
Weight capacities from 800 to 3,600 lbs
Easy access on all sides
Tubular steel push handles for maneuverability