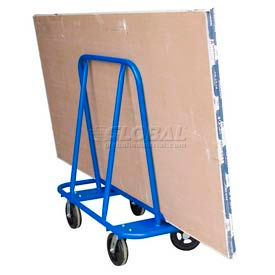 Sheet Rock Drywall Dollies
Sheet Rock Drywall in Confined Areas Accommodate Material Handling In Need of Panel Truck Transportation.

Sheet rock drywall dollies offer an open frame design to move drywall, paneling and plywood around tight corners with ease. Heavy duty 1-¼" tubular steel frame surrounds the entire chassis for added strength, and rounded corners help to prevent wall and doorway damage. Angled deck and tubular steel uprights are designed to prevent load slippage. Durable powder coat finish. Bolt-on 8" casters provide long-lasting performance. Choose from Mold-on Rubber or Pneumatic casters. Additional specifications vary per model.