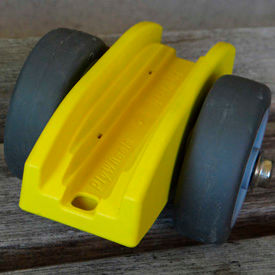 PlyWheels Plywood, Drywall & Glass Sheet Panel Mover
A Single Person can move Plywood Sheets with ease.

PlyWheels are designed to make it easier to move plywood, drywall, cement board, diamond plate, folding tables…anything that can fit into the 1-¼" panel slot. Since a piece of ¾" plywood weighs approximately 50 to 70 pounds, dragging and lifting is impractical and leaves marks on the floor and damages the material. There are also times when there may not be another person available to help you. PlyWheels are always there for you. They won't mark the floors and they won't damage the material. Just put one end of the material into the PlyWheels, hold the material from the front and pull, or from the back and push. Durable and lightweight glass-filled nylon mover features non-marring polyurethane wheels and a 304 stainless steel axle.

Note: PlyWheels are not designed to move doors.