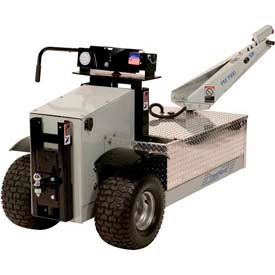 Self-Propelled Power Move Battery Powered Tugs
Electric Powered Tugs Increase Productivity by Reducing the Time Spent Moving Wheeled Loads.

These powered tugs provide a cost-effective material handling solution by reducing the number of people and equipment involved in moving loads. Compact tuggers are used for maneuvering in tight spaces, are easy to use and do not require the operator to have a forklift license. Industrial grade internal DC powered motor offers smooth, quiet push/pull operation. Variable speed control provides generous low speed torque and precise cargo positioning. Deep-cycle batteries and integral battery charger for quick recovery. Oversized pneumatic wheels are for use on various floor surfaces (not for use on inclines).

40,000 lb. Powered Tug Models Include a Hydraulic Operated Lift allowing for 9" to 26" powered vertical lift.

An Optional Hydraulic Lift for 12,000 lb. Powered Tugs is also available. Three point mounting configurations allow for adjustable 9" to 26" H service range.

Specialized hitch options are available; call for more information.