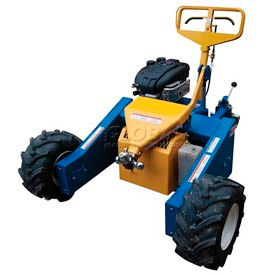 Gas Powered Trailer Mover
Self-Propelled Trailer Tug Tows Trailers Up To 12,000 Lbs..

The gas powered towing machine easily moves boats, RV's, snowmobiles and heavy commercial equipment trailers, allowing you to position and park the trailer in tight spaces without using a car or truck. Perfect for manufacturer assembly lines, retail showrooms or trade shows. Compact design offers maximum maneuverability (not recommended for inclined or sloped surfaces). Trailer positioner has a powerful 8.5HP gasoline engine and a variable speed hydrostatic transmission offering generous low-speed torque for maximum pulling force. Hydraulic powered lift offers 17" to 27" adjustable ball height using a hand lever control for precise positioning. Steer handle includes forward/neutral/reverse lever and integral dead-man engine kill switch. Powered tug includes three-sized 1-7/8", 2" and 2-5/16" diameter ball receiver hitch for convenience. Rugged foam-filled traction drive tires provide grip on unpaved surfaces.