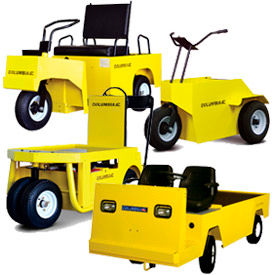 Columbia Commercial & Industrial Vehicles
Columbia Electric Vehicles are Made in America, friendly to Indoor and Outdoor environments, and Built to Last.

The Chariot transports key personnel quickly and safely. Designed to fit through standard doorways, the Chariot will take you just about anywhere you need to go. With a low center of gravity, its stand-up operation offers unmatched visibility while moving personnel. The Chariot will help you get more done and in less time, as it travels three times faster than walking.

The Expediter™ features a short turning radius that enables you to transport personnel and payload through the tight areas and right up to the job site with ease. The fold down seat back quickly converts the Expediter™ into a two-person transport, making it used for warehouses, industrial complexes, hotels, resorts, shopping centers and campuses.

Columbia's StockChaser™ will help you move materials quickly, efficiently and inexpensively. This dependable performer provides the best working solution for order picking, stock replenishment, towing, materials expediting and many more "just in time" applications.

The Payloader can carry up to 3,200 pounds, tow up to 10,000 pounds and travel up to 13 mph while offering exceptional maneuverability and access to places that larger burden carriers don't allow. The Payloader is designed for durability and dependability.