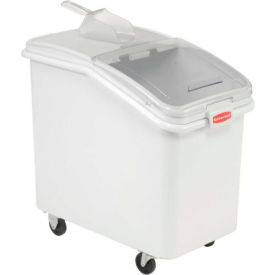 Rubbermaid® Plastic Ingredient Bin Trucks with Lids
Protect, Store and Transport Food Products and Ingredients, Ice Melt and Sweeping Compounds, plus Small Parts and Loose Fill in these Non-Corrosive, Plastic Box Trucks.

Seamless construction with structural web base has smooth, rounded surfaces for easy cleaning. Clear polycarbonate lid allows visibility to contents. NSF and USDA listed, and made of FDA compliant polycarbonate material. Ingredient Bin Trucks require easy assembly.

Slant Front Box Truck has a lid that retracts into itself allowing easy access to contents when stored under a counter, plus includes a 32 oz. scoop and interior scoop hook.

Low-profile Flat Top Box Truck features a flip-up lid. Rolls easily on 3" rubber wheel casters (2 swivel, 2 rigid).