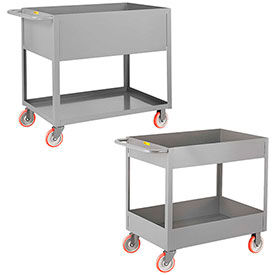 Deep Shelf Trucks
Deep Shelf Trucks are made for Heavy Duty Material Handling Applications.
These deep shelf trucks have 6" and 12" deep sides with 12 gauge welded construction - so they can handle heavy item transport easily. The shelves are formed from a single sheet of steel and welded in place, resulting in an extremely rigid, durable unit. Available styles are
Deep Shelf Truck 6" Deep Sides and Deep Shelf Truck 12" Deep Sides.
Trucks have 1200 -3,600 lb capacity
6" and 12"Deep Sides