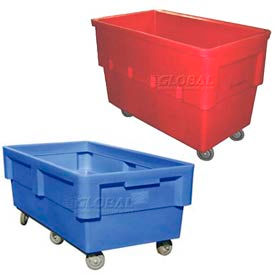 Dandux Rectangular Plastic Box Trucks
These Rectangular Shaped Plastic Bulk Trucks Optimize Usable Cube Space.

Rotationally molded from high-quality polyethylene, these trucks are designed with broad, flat sides to assist with stacking boxes, packages, folded linens and towels. Unique double-wall upper flange provides strength, rigidity and impact resistance. Powder coated tubular steel base is reinforced for strength. Plastic box trucks roll smoothly with Mold-on Rubber casters with thread guards. Shipped assembled.

Big BlueExtra-large 1680 lb cap utility bulk trucks are found in laundries, dry-cleaning, textile mills, garment plants, hotels and mail rooms for the movement of trash, scrap metal and linens. Full front cutout allows for easy access to cargo. 6 mold on rubber casters (2 rigid center mount, 4 swivel end mount) allow truck to turn on its own radius. Optional Cargo Net. available to maximize effective volume. Cargo Net features a quick-release design and is constructed of durable nylon webbing.

Additional optional colors are available; call for more information.