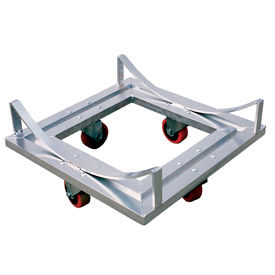 Portable Aluminum Cradle Cart
Designed for Moving Long Pieces of Bar Stock and Cylindrical Materials.

Safely move and store pipe, channel and barrels with this cradle cart. Open design makes loading and unloading by forklift truck and slings safe and easy. Cradles are designed to keep material secure during storage or transport. Durable welded aluminum construction is corrosion resistant. Four 3" x 1-1/4" hard rubber swivel casters allow the unit to turn within its own radius.