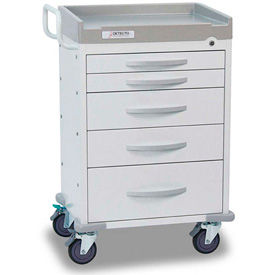 General Purpose Medical Carts
General Purpose Medical Carts Organize and Store Essential Medical Supplies in Hospitals, Nursing Homes, Doctors' Offices and Other Healthcare Facilities.

General Purpose Medical Carts are made from high density polyethylene, ABS plastic, steel or aluminum for long lasting durability and chemical resistance. Casters and built-in handles allow smooth mobility and steering between patient rooms. Locking systems secure medications, testing kits and other patient supplies. Medical service carts are available in a variety of sizes and configurations from top brands Buddy, Detecto, TrippNT and Waterloo Healthcare. 20 color finishes listed. Dimensions vary per model.