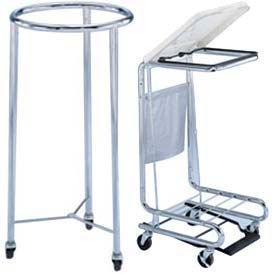 Linen Hampers & Receptacles
Chrome Hampers & Receptacles are used for Hospital Linens, Healthcare Laundry and more.

Hamper receptacle are made of stainless steel for long lasting durability. Foot operated pedal is non slip to provide ease of use. Hard rubber wheels provide easy transport and stability. Available styles include Round Medical Hamper, Foot Operated Medical Hamper and Tilt-Top Foot Operated Medical Hamper.