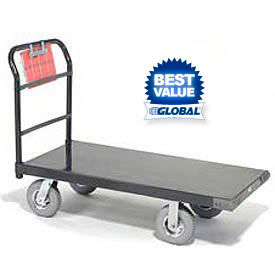 Steel Deck Platform Trucks
Steel Deck Platform Trucks Provide Convenient Mobility and Transport of Materials for Commercial, Industrial, Distribution, and Other Related Applications.

Platform Trucks are made of steel for long lasting durability and dependability. Trucks allow ergonomic content mobility and transport. Includes wheels and push handle for convenient maneuverability and handling. Available wheel types include Full Pneumatic, Metal, Mold-On Rubber, Phenolic, Plastex, Pneumatic, Polyurethane and Rubber. Weight capacities range from 850 to 5000 lbs. Lengths range from 32" to 84". Widths range from 18" to 48".