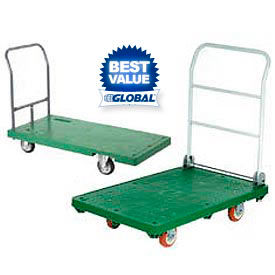 Plastic Deck Platform Trucks
Plastic Deck Platform Trucks Are Available in Various Dimensional Sizes, Load Capacities and Configurations.

Plastic Deck Platform Trucks are solidly constructed for lasting strength, durability and dependability. Non-skid, structural foam plastic deck is resistant to rust, chemicals, dents and temperature fluctuations. Stands up to harsh weather conditions and cleans easily. Enamel coated handles withstand varying climates and have easy-grab soft surface. Available wheel types are Mold-on Rubber, Polyolefin, Rubber and Thermoplastic Rubber. Handle styles are Fixed, and Removable. Maneuver easily on 2 swivel, 2 rigid casters. Other dimensions vary per model.