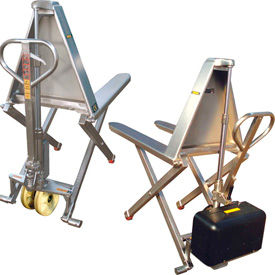 Stainless Steel High-Lift Skid Trucks
Stainless Steel High-Lift Skid Trucks are used for Corrosion-Resistant and Clean Room Applications.

Stainless Steel High-Lift Skid Trucks are constructed using premium 304 stainless steel to provide long-lasting durability in corrosive environments. Ergonomic design eliminates bending and cuts down on back injuries, as forks can be raised to a comfortable working height. Rolls easily on nylon steer wheels and load rollers.

Hand Operated Skid Lift features a premium hydraulic pump and chain mechanism. Handle has a safety loop with three position fingertip control.

Battery Powered Skid Lift features a DC power unit to raise skids effortlessly in 12 seconds. A deep-cycle 12V battery and 110V battery charger are included.

Note: For use with Single-faced Pallets, Skids and Bulk Containers; Not for use with Pallets with understructure. Closed Pallets must be placed on top of the forks.