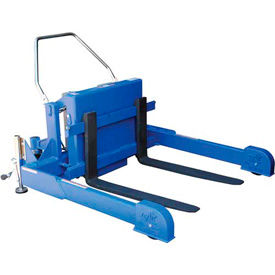 Tilt Master Pallet & Container Tilters
Tilt Master Pallet & Container Tilters Tilt Products from Ground Level to a Comfortable Operator Working Height.

Tilt Master Pallet & Container Tilters lift and positions filled Tote Boxes, Baskets or Pallets without the need of a Forklift truck or Lift Table. These tilters transport completed products from work station to work station with ease, and can double as a Pallet Truck and a portable Tilt Table for multipurpose demands. Straddle design and adjustable width forged steel forks allow the unit to be used with virtually any kind of container, pallet, or skid. Each unit is built to provide a versatile tilt angle range from 0 to 90°, some models offer a 12V, 24V, or 115V DC powered lifting motor. On-board 110V AC battery charger is standard. Mobile Tilter has a thin profile to allow the operator to get as close to the load as possible and is equipped with a floor lock for stationary positioning. Folding ergonomic handle has dual steering grips for quick and easy maneuverability. Rolls smoothly on 2 swivel and 2 rigid polyurethane casters. Available Weight Capacities range from 2000 – 6000 lbs. depending on the model. Dimensions and additional specifications vary per model.