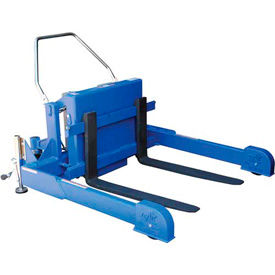 Tilt Master 12V DC Straddle Tilter
Tilt Master 12V DC Straddle Tilter Tilts Products from Ground Level to a Comfortable Operator Working Height.

Tilt Master 12V DC Straddle Tilter lifts and positions filled Tote Boxes, Baskets or Pallets without the need of a Forklift truck or Lift Table. This 90° Tilter will transport completed products from work station to work station with ease, and doubles as a Pallet Truck and a portable Tilt Table. Straddle design and adjustable width forged steel forks allow the unit to be used with virtually any kind of container, pallet or skid. Tilter features a 12V DC powered lifting motor and a push button hand control with 8' coiled cord for maximum efficiency. On-board 110V AC battery charger is standard. Mobile Tilter has a thin profile to allow the operator to get as close to the load as possible and is equipped with a floor lock for stationary positioning. Folding ergonomic handle has dual steering grips for quick and easy maneuverability. Rolls smoothly on 2 swivel and 2 rigid polyurethane casters. All steel construction features a durable blue enamel finish.