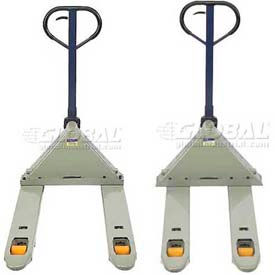 Adjustable Fork Width Pallet Jack Trucks
Adjustable Fork Width Pallet Jack Trucks Support Multi-Sized Pallets For Warehouses, Loading Docks, and Material Transfer Applications.

These jack trucks are solidly manufactured for long lasting strength, durability and dependability. Looped safety handle features fingertip control to raise and lower load for easy positioning. Self-contained hydraulic system. Tapered forks with ramped tips allow for easy pallet entry and exit. Sturdy steering and load wheels provide easy mobility and maneuverability. Available in 2200 and 5500 load capacity models with various fork lengths and adjustable fork widths.