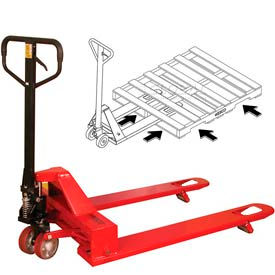 4-Way Entry Pallet Jack Trucks
4-Way Entry Pallet Jack Trucks allow Maximum Trailer Load Density for Material Handling, Construction and Industrial Applications.

4-Way Entry Pallet Jack Trucks load, position and unload 4-Way Entry Pallets from all sides. Pallet Jacks unique fork design allows forks to fit into the side cut-out openings on four-way pallets. Truck allows maximum trailer load density, which usually restricts fork entry from adjoining pallets. Trucks can also be used for standard two-way pallets and skids. Premium, industrial grade hydraulic pump raises and lowers skids or pallets smoothly and includes an overload bypass valve for safety. Pallet Jack offers a 3-position fingertip control (Raise, Lower, Neutral). Adjustable fork tie rods help keep proper fork alignment. Rolls smoothly on floor protective 6" polyurethane steer wheels and 1.7" steel load wheels. Reinforced 6-3/4" wide tapered forks. 101° turning radius. Load capacities are 3300 lbs. and 4000 lbs. Fork dimensions are 33"W x 48"L and 33"W x 63"L. Other dimensions vary per model.