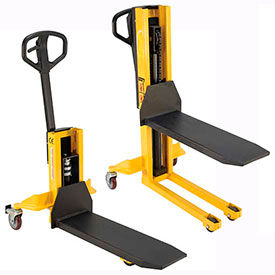 Single Fork Pallet Lift Trucks
Single Fork Pallet Lift Trucks Allow Convenient Material Handling and Mobility For Multiple Applications Including Distribution, Commercial, Storage, and more.

The single large centered fork is designed to easily lift and transport open bottom skids, crates, baskets, and other content. The elevated handle allows convenient steering and features a pumping mechanism for adjustable fork height control. The polyurethane load wheels support heavy duty contact while ensuring surface protection. The compact design reduces unit footprint allowing ergonomic maneuverability while minimizing storage space when not in use. The steel construction is both strong and durable providing years of reliable service in harsh working conditions. The yellow color finish improves unit visibility for added safety and security. Includes foot brake for secured positioning during transition periods. Features 3 sided access for easy loading and unloading of products. Weight capacities are 600 and 800 lbs. Lowered heights are 3-1/4" and 4". Raised heights are 12" and 40-1/4".