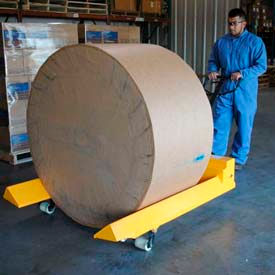 Roll Moving Pallet Jack Trucks
Roll Moving Pallet Jack Trucks are designed to Move Rolls of Steel, Aluminum or Paper and Reels of Wire.

Roll Moving Pallet Jack Trucks lift and transport rolls of material with ease. With a service range of 0" to 6-¾", reels can be easily rolled onto the forks from ground level and elevated for transport throughout the workplace. Tapered, V-shaped forks keep the roll centered on the Pallet Jack. Functions like any standard Pallet Truck with a convenient 3-stage (Raise, Neutral, Lower) fingertip control and a safety loop handle. Rolls smoothly on 7-7/8" polyurethane steer wheels and 3-1/8" polyurethane load rollers.