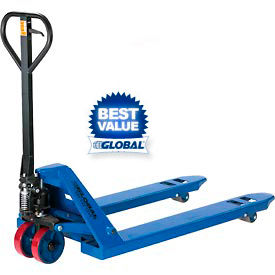 Premium Pallet Jack Trucks
Premium Pallet Jack Trucks Lift and Transfer Heavy Duty Merchandise and Materials in Warehouses, Loading Docks, Inside Trucks, and other Industrial Environments.

The trucks are solidly manufactured for long lasting strength, durability and dependability. Hydraulic Pallet Jack provides exceptional maneuverability and flexibility of operation. Looped safety handle features fingertip control to raise and lower load for easy positioning. Features a self-contained hydraulic system and tapered forks with ramped tips that allow for easy pallet entry and exit. Load Capacities, Fork Dimensions and Raised / Lowered Heights vary per model.