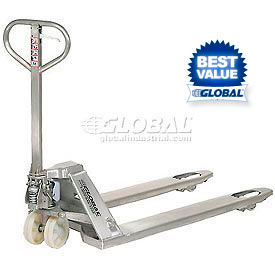 Stainless Steel & Galvanized Pallet Jack Trucks
Stainless Steel & Galvanized Pallet Jack Trucks Allow Ergonomic Heavy Duty Content Handling, Maneuvering, and Transport For Warehouses, Distribution Centers, Food Service, and more..

These Pallet Jacks are specifically designed for corrosive or extremely wet environments and are used for use in food processing applications, laboratories and clean rooms. Ergonomic three position (Raise/ Lower/ Neural) control handles, sturdy tapered dual fork design and rugged nylon steer and load wheels provide easy mobility and maneuverability. Stainless Steel construction provides lasting durability. Available types are Galvanized Steel and Grade 304 Stainless Steel. Raised and Lowered heights very per model. 4400 lb, and 5500 lb. load capacities. Other dimensions vary per model.