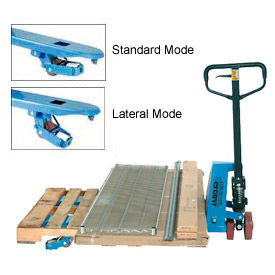 Dual Direction Pallet Jack Trucks
Dual Direction Pallet Trucks and Jacks are used for Highly Maneuverable Commercial or Industrial Material Handling Applications.

Dual Direction Pallet Trucks and Jacks are manufactured of heavy duty solid steel construction for long lasting durability and dependability. Combine the functionality of a standard Pallet Truck with the versatility of a Lateral Moving Truck. Perpendicular movement is achieved by raising the load and activating the side rolling load wheels. Used for material handling and maneuvering in tight areas, it can also be used to move oversized items by placing the load across forks. Rubber coated handle improves grip and comfort. 5000 lb. standard mode, 2200 lb. lateral mode capacity models have 27 inch wide, 48 inch length fork dimensions and are available in Blue or Green color finishes.