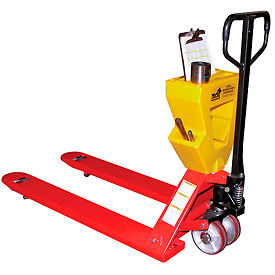 Pallet Jack Truck Storage Caddy
Pallet Jack Truck Storage Caddy Converts your Pallet Truck into a Portable Workstation.

If you've ever tried to maneuver a pallet truck and carry all of the accessories required to do your job, then you'll find this product essential for every pallet jack you own. Pallet Jack Truck Storage Caddy features a cup holder, pen/pencil tray and clipboard holder on the top, twin tool pockets on the sides, and a large storage compartment in the back that can also be used as a wastebasket. Storage caddy is manufactured of durable molded plastic and can be easily attached to virtually any pallet truck using the included hardware and installation instructions.

Note: Pallet Truck is not included.