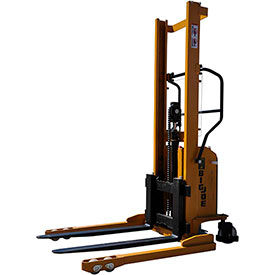 Battery Powered Lift Stackers
Battery Powered Lift Stackers Handle Skids, Bales and other Commercial or Industrial Products in Material Loading Applications.

The lift stackers are solidly manufactured for long lasting durability and dependability. Various brands offer wide selection of Adjustable Fork or Platform type Stackers to meet particular load lifting need or application. Include 12V battery powered hydraulic lifts and easy access rear affixed or remote control systems. Sturdy bars or push handles and rugged wheels or rollers provide easy mobility and maneuverability. Available in 1000 to 2200 lb. load capacities and 1 to 6 inch lowered and 52 to 150 inch raised fork/platform height capabilities.