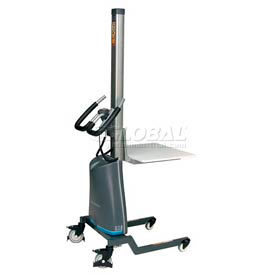 PrestoLifts™ Lift Stik™ Office & Lab Lift Trucks
PrestoLifts™ Lift Stik™ Office & Lab Lift Trucks feature a Narrow Mast Design and a Short Wheelbase that provides Optimal Visibility & Maneuverability!

Presto Lift Stik™ Trucks are the most versatile Lifters and Transporters on the market. Sleek, attractive and user-friendly machines are used for use in test and measurement stations, office supply rooms, electronic assembly areas and computer server rooms. Continuous lifting chain provides smooth starts-stops and precise load positioning with zero drift. Enclosed aluminum mast and sealed motor cover offer a clean design, allowing it to be used in laboratories and offices with no risk of hydraulic fluid leaks. Oversized ergonomic "sponge-grip" handle provides operator comfort. Two speed pressure sensitive lift control is conveniently mounted on the handle and features a coiled cord for remote operation. Durable powder coated steel frame and fixed steel forks with a ½" thick removable UHMW polyethylene platform are designed for years of service. Battery status indicator and onboard 115V quick-charge battery charger included. Office Lift Trucks roll smoothly on non-marring gray rubber wheels (2 swivel steer wheels with brakes and swivel locks for straight line movement; 2 swivel load wheels). Limited 2 Year Limited Warranty.