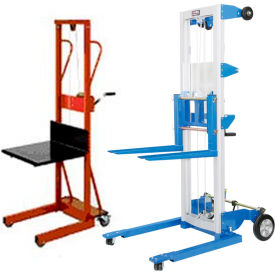 Hand Winch Operated Lift Trucks
Hand Winch Operated Lift Trucks Handle Skids, Bales and other Commercial or Industrial Product or Material Loading Applications.

Hand winch operated lift trucks provide storage for heavy loads. Available types are Forks, Forks - Counterbalanced and Platform. Lowered heights range from 0" - 6-1/8". Raised heights range from 40" - 144" Forks down/165-1/2" Forks up. Load capacities range from 220 lbs - 1000 lbs. Lift Trucks are able to meet particular load lifting need or applications. Hand Winch Operated Lifts offer effortless lifting and lowering capabilities. Sturdy push handles and rugged wheels or rollers provide easy mobility and maneuverability. Some models feature upper level rollers to allow stacker to be positioned on its back. Aluminum or steel construction provides lasting durability. Specifications vary per model.