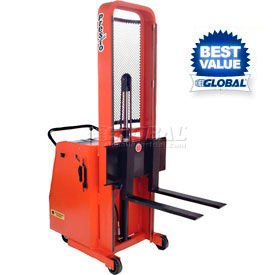 Battery Powered Lift Counter Balanced Stackers
Battery Powered Counter Balanced Lift Stackers Manage Loads without Straddle Leg or Outriggers Interference in close Material Handling Applications.

Battery Powered Counter Balanced Lift Stackers are solidly manufactured for long lasting durability and dependability. Rear counterweight design allows fork to be clear for 3-side access to load without interference from straddle legs or outriggers, providing a close approach to machinery, racks and mezzanines. 12V battery powered hydraulic lifts feature affixed or remote push button hand controls. Sturdy push bars and rugged wheels or rollers provide easy mobility and maneuverability. Counter weights on some models sold separately. Available load capacities range from 200 to 1000 lbs. Raised heights range from 56 to 76 inches. Fork lengths are 25 and 30 inches. Other dimensions vary per model.