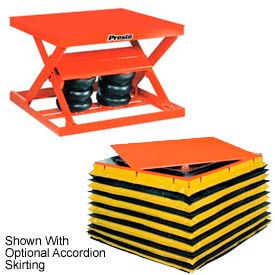 PrestoLifts™ Air Bag Pneumatic Scissor Lift Tables
PrestoLifts™ Air Bag Pneumatic Scissor Lift Tables Require No Electricity and can be used Anywhere Shop Air is Available.

PrestoLifts™ Air Bag Pneumatic Scissor Lift Tables require less maintenance than conventional Lift Tables, as there is no hydraulic fluid to leak and contaminate processed goods. Typically used in the automotive manufacturing industry, the Lift Table is operated by Lifetime Limited Warranty Firestone Airstroke™ Actuators that deliver long life and low maintenance. Air Powered Lift can work a full day without duty cycle limitation, as there is no motor to fail. Pneumatic lift requires 80 psi @ 15 cfm of air pressure and unit includes a safety pressure relief valve. Unit must be lagged to a clean and level floor. Pedestal-mounted Hand Control offers simple lifting and lowering, and includes an 8' hose for remote operation. 2 Year Limited Warranty.

Pneumatic Scissor Lift with Rotating Turntable allows a worker to position pallets, containers or heavy components to the proper working position. Unit is used for lifting dies, electric motors, and engines that require a worker to access multiple sides and levels for repair, assembly and inspection. A single operator can turn the 3/8" thick solid steel rotating platform with nearly no effort.

Optional Accordion Skirting Bellows Guard offers additional worker finger and foot protection for high-volume manufacturing facilities.