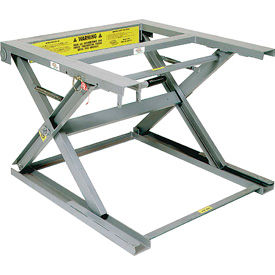 Adjustable Pallet Stand
Adjustable Pallet Stand helps Eliminate Back Strain and Fatigue.

Adjustable Pallet Stand is designed for use in work areas requiring high capacity support tables, such as shipping rooms, machine shops and maintenance departments. Skid Stand has three working heights and full perimeter access for increased comfort and ergonomics. One operator can set up the Stand by simply grasping the safety handle and lifting it into position. A secure locking mechanism prevents the Stand from folding down while in use. Sturdy steel construction features a durable gray enamel finish. Folds down to 8-¾"H. Shipped assembled. Made in USA.