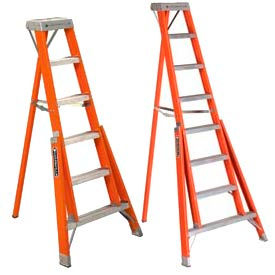 Louisville™ Fiberglass Tripod Ladders
Fiberglass Tripod Ladders Allow Use In Tight, Confined Areas While Ensuring Optimum Stability.

Tripod ladders are used for irregular surfaces and reduced areas. Back rail fits easily into tight angles and other confined spaces. Type 1A 300 lb. load capacity for extra heavy duty industrial applications. Steps measure 3 D and feature double rivet assembly for increased strength. Heavy duty gusset bracing are made with heavy duty steel and provide added support. Features steel reinforced outriggers, center-pull spreader brace and outrigger rail brackets. Full Metal Boot™ wrap-around shoe assembly grips floors for maximum stability. Feet include slip-resistant rubber feet. Meets OSHA requirements. Exceeds ANSI standards.