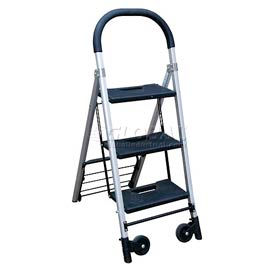 Folding Stepladder Carts
Folding Stepladder Carts Are Easily Convertible For Versatility And Functionality.

Stepladder carts are easily convertible from a stepladder into a hand truck in seconds. Made from rugged aluminum for lasting strength and lightweight mobility. Hand grips provide comfort and firm hold. Nose plate measures 15 wide. 4 diameter wheels provide smooth transportation. Hand truck capacity is 130 lbs. Ladder capacity is 300 lbs. Folds to only 3-1/2 thick when not in use. Available in Three Step or Two Step configurations.