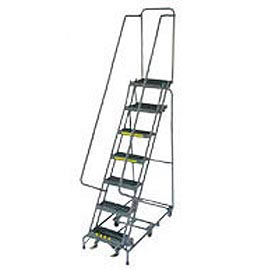 All Directional Steel Rolling Ladder
All Directional Rolling Ladders Move Laterally to Fit in Tight Corners and Close to Shelves.

All Directional Rolling Ladders pivot on their own radius to work efficiently in confined areas and narrow aisles. These steel rolling ladders feature a unique five caster design and an easy-to-use heavy duty foot pedal activated lockstep. Rolling ladders have a 14"D top step and 450 lb. total capacity. Perforated Step Rolling Ladders feature a solid surface with perforations for slip resistance. Grip Step Rolling Ladders are Industrial Grade with maximum slip resistance. Choose either standard or safety angle. Meets OSHA and ANSI requirements.