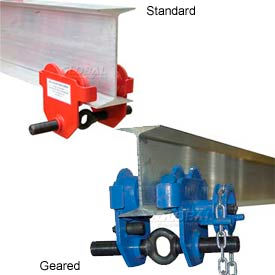 "Eye-Adjustable" Manual Trolleys
Designed to be quickly installed on virtually any S type I-beam, these trolleys offer easy width adjustment by rotating the center lifting eye rod clockwise or counterclockwise. The eye rod screw cannot be rotated once a hoist is attached, preventing the trolley width from accidentally being changed. Trolleys are constructed using high-strength steel with a durable enamel finish.

Standard Trolleys offer free-floating movement along the I-beam.

Geared Trolleys feature a chain gear drive for precise trolley/hoist positioning. This unit is not free-floating on the I-beam. Hanging chain length is 10 feet.