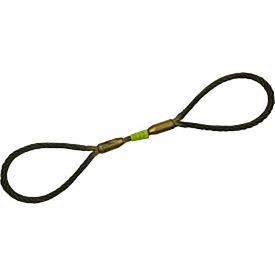 Wire Eye & Eye Slings
Wire Eye & Eye Slings Ensure Superior Strength for Secure Hoisting and Material Handling in Warehouses, Shipping Facilities, and more.

The durable sling design is highly manageable ensuring years of reliable service and a cost savings over standard wire rope slings. The slings are made of mechanically swaged steel for superior strength, abrasion resistance, increased weight support, and overall reliability. Most models feature tags that display easy to read capacity information for safety. Basket hitch capacities range from 2600 to 84,000 lbs. Choker hitch capacities range from 960 to 32,000 lbs. Vertical lift capacities range from 1300 to 42,000 lbs. Dimensions vary per model.