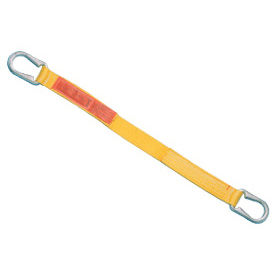 Lift-All® Uni-Link Web Slings
Lift-All® Polyester Web Slings are used with Hoists and Cranes for Lifting.

Lift-All® Polyester Web Slings have a red core yarn warning system that aids in the sling inspection process. Abrasion resistant latex treatment provides extended sling life. Soft web will not mar the load. Resists rot and mildew. Available styles include: Endless - The most versatile and economically priced. Rotate sling to reduce wear. Spread legs help balance the load. Eye & Eye - Type 3 (flat eyes) are easy to rig and remove from under loads. Uni-Link - Alloy steel fittings protect web from rough hooks. Unique design chokes from either end, keeps web in place. Easy to rig. Reuse fittings to save money.1 or 2 ply types. Widths are 1"-4". Other lengths are available; Please call for pricing.